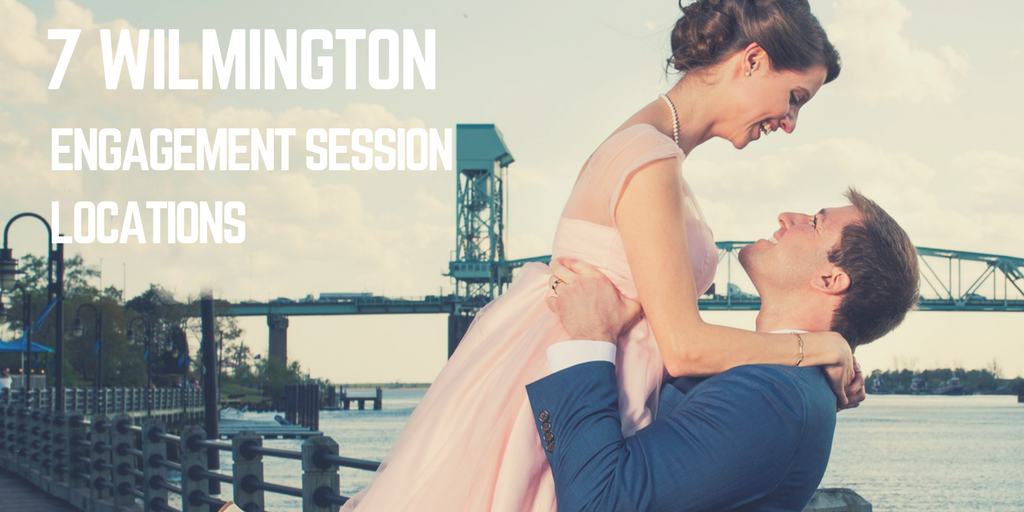 Wilmington, NC is an incredible place to get married, and there are countless locations to take your engagement photos. Here are seven of the top Wilmington engagement session locations!
1. Under Carolina Beach Bridge
Many people gaze in awe at the sunset as they drive over Carolina Beach's bridge, but have you ever experienced the beauty below? It's like a whole different world. There are many varieties of landscape to choose from. All the rocks, fallen trees, and graffiti to the right of the bridge provide for more of a grungy background.
The left side of the bridge consists of many more landscapes such as woods with soft lighting seeping through greens leaves, a huge sand cliff leading down to the water, and a large open area full of tall, brown grasses and leaves. The woods consist of gnarled trees and other plant life with soft light peeking through all the greenery. The tall grassy plain provides a wide open space to experiment with all different types of outfits and poses.
2. Airlie Gardens
Airlie Gardens is ten acres of stunning scenery with thousands of colorful flowers, walking trails, wildlife, and even sculptures! The romantic feeling one instantly feels when entering the beautiful gardens is perfect for engagement photos. The vibrant colors really provide a joyful, radiant mood. The peaceful nature walks are perfect for couples to get in a romantic mood, which makes modeling for engagement pictures all the more easier!
Check out a recent Airlie Gardens engagement session I shot this summer!
3. Fort Fisher Aquarium
Not only is the Fort Fisher Aquarium full of wondrous sea life, but it has gorgeous scenery as well! The end of your visit consists of a walk through a small wooded area full of beautiful sculptures. The path leads to a bridge leading over a small pond where turtles slowly come to greet you.
Want to add a little variety and adventure to your romantic pictures? Inside the aquarium is one of Wilmington's most famous attraction: the giant tank that consists of sharks, fish, and even an eel! This provides an excellent background as it adds character and interest. The aquarium also consists of many other exotic exhibits that produce different types of lighting. If you are looking to add even more uniqueness, there are many exhibits, such as the jellyfish tank, that produce a stunning blue glow.
The aquarium is definitely not for everyone, however it's uniqueness results in gorgeous photos.
4. Hugh McRae Park
Hugh Macrae Park is another peaceful location and contains a beautiful white gazebo near a small pond. The soft colored flowers and flocks of graceful geese sets the perfect romantic mood. The bridge leading over the pond provides the perfect hand-holding spot as it has many tree branches that engulf around you as you walk over it.
5. Shell Island Resort
The Shell Island Resort at Wrightsville Beach has a beach access, allowing you to not only walk on the beach, but stroll through old nesting areas and pristine dunes as well. This wide open space is an excellent location to experiment with any props you may want to use, such as smoke bombs, balloons, confetti, ect… I, personally, recommend this location as it is a gorgeous landscape that provides many opportunities to get creative with your photoshoot. Below is an example of some smoke bombs I set off at the resort.
The vibrant colors really popped against the green grass and resulted in some amazing photographs. The open space allows you direct access to sunlight and the chance to experiment with it and the shadows it creates. Also, if you would like a variety of backgrounds, the beach is right beside the resort. The beach provides a beautiful scenery of open air and fresh waters. At the right time of day, the sky produces a brilliant ray of colors that reflect in the waves bouncing along the shore. You can never go wrong with the beach.
Click here to check out one of my Wrightsville Beach engagement sessions.
6. New Hanover County Arboretum
The Arboretum is a mixture of nature from different cultures. It not only consists of some of North Carolina's most common plants, but it is combined with Japanese culture as well! When entering the Arboretum, it is like leaving Wilmington and discovering a whole new world.
There are multiple red bridges leading over beautiful, dark waters that make for excellent photos. The combination of the red bridge with a white dress is absolutely stunning. If you are adventurous and like to add some uniqueness to your engagement photos, then this is the perfect place!
Click here for a bridal session I shot at the Arboretum.
7. Downtown Wilmington
There is a reason that the waterfront in Downtown Wilmington is such a popular spot. I can not count all the times I have watched the sunset over the river. It is a breathtaking sight! It is the perfect spot for couples to snuggle up to each other and take a stroll along the calming waters.
Not to mention there is also a beautiful fountain excellent for photos. The sun bouncing off the dancing waters is the perfect background for setting a happy, bright mood. All in all, downtown is a gorgeous location.
Click here for an epic downtown Wilmington engagement session!
This blog post was guest-written by Kim Lucas, a local Wilmington artist. Most of the photos of the suggested locations were taken by Kim as well. Thank you Kim for all your help!
Related Posts