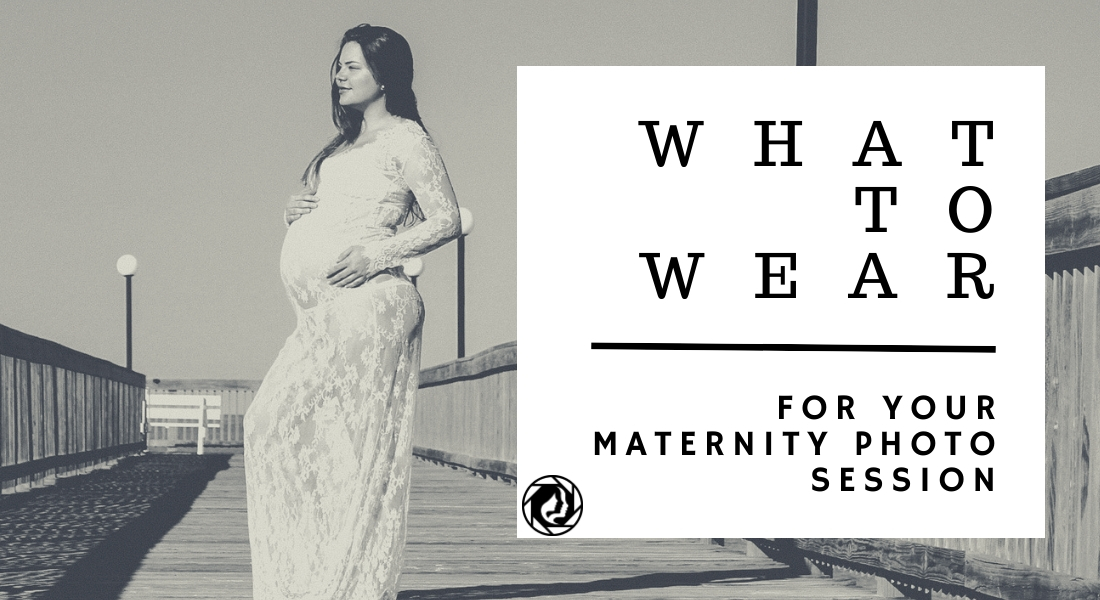 Are you expecting a bundle of joy in the near future?  If you are pregnant and getting closer to your due date, then this is a great time to schedule a maternity photo shoot.  Your growing belly is a sign of your growing family.  This special time in your life is a great reason to get commemorative photos.
When considering your photo wardrobe, it is important to find something comfortable and suitable for the occasion.  We want you and your baby-bump to be the center of attention.  So wearing heavy or bulky clothing that hides your pregnancy may not be the best idea.  Here are some helpful tips on what to wear for your maternity photo session.
Tight VS Loose Clothing
It's not every day that we want our bellies to be the focal point of our photos.  But during pregnancy, especially the third trimester, your round tummy is the heart of the show.  You can really show off your pregnancy with form-fitting dresses and shirts.  It's important to make sure your clothing isn't too tight or uncomfortable.  We want you and your baby to be as safe as possible, and for you to be able to move easily throughout your photo session.  But wearing something that conforms to the shape of your belly will result in amazing maternity photos.  Tighter clothing will also allow for more variety in possible poses.  If you wear loose clothing, then you may feel obligated to use your hands to show off the shape of your bump.  That means most of your photos will be of your hands below your belly and your arms blocking the side of your bump.
If you do want to wear something loose to match an ethereal theme, then consider wearing a loose and shear outfit.  That way, we can see through your flowing clothes and still see the outline of your belly.  Or perhaps you want to wear something with a cut-out for your tummy. Then your clothing will look flowing and loose, but your belly will still be on display.
Compliment Your Changing Body
We understand that your body goes through a lot of changes during pregnancy.  Showing off your growing belly does not necessarily mean you want to show off your entire body.  If you would like to stay modest, then a button-down shirt may be an optimal choice for you.  This will allow you to stay buttoned at the top of your shirt, and unbuttoned around your belly.  Then it would be your choice to show off your belly or wear a form-fitting tank-top underneath.  You may also want to consider a maternity dress that has sleeves.  Sleeves, whether they are short or long, tend to be more flattering and the number one choice for expectant mothers.
The choice is ultimately yours! We want you to feel comfortable in your own skin, whether you want to be more or less covered up than usual.  So take time to find an outfit that you feel good in.  When you look good, you feel good.  This will result in the best possible photos as you feel happy and beautiful in the clothing that you chose.
Cinched Waist Or Belts
Finding a dress with a cinched waist, or adding a belt to your outfit, will really accentuate your baby-bump.  It's one thing to find a form-fitting top, but it's another thing to make the most of your outfit with a cinched waist.  As you've probably noticed from experimenting with your own maternity wardrobe over the past several months, adding a belt can make a considerable difference.  Your belly will definitely pop if you find a cinched waist or belt to round out your overall look.
Additional Details
Some other baby-sized details to consider adding to your maternity wardrobe is ruching and layers.  Choosing a dress or shirt with ruching at the sides can really define your belly.  It will also allow for more space for baby, which will make both of you more comfortable.  Adding layers to your outfit will also accommodate for the most comfort.  Whether you have your photos taken inside or outside, we want you to be prepared to add or remove layers based on how hot or cold you feel.  Layers are a great way to vary your look throughout the session as well, without doing a complete wardrobe change.
Your comfort and safety is of the utmost importance to us, and we want you to feel great during your photo session.  So give us a call today to schedule your maternity session, and we will work hard to capture the beauty of your maternal journey beginning.