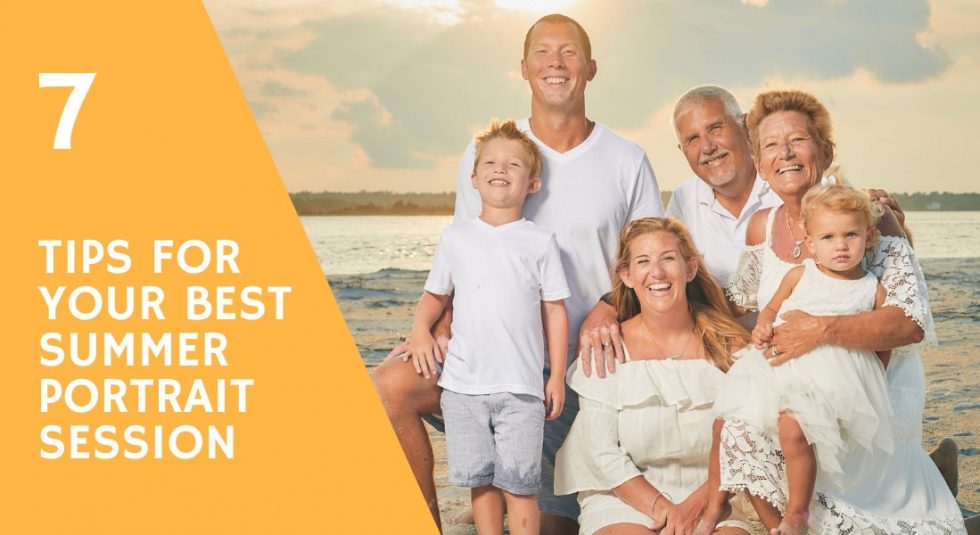 Summer is an ideal time to sit for your portrait since the season puts everyone in a more relaxed frame of mind. Even though summer is a great time for making lasting memories, the warm weather can present challenges to capturing those moments. Here are some tips for making the most of your summer portrait session without allowing the heat and humidity to get in the way.
1. Summer Dress Will Help You Look Cool
That bright sunshine will create a cheerful image for years to come, but not if everyone in your photo looks as if they are melting. A favorite outfit, however flattering, may fall flat if it's sticking to you in the heat. Instead, embrace the season by choosing fabrics that are breathable, lightweight, and move with you. Comfortable summertime shoes, like flats and loafers, are recommended.
2. Preparation and Packing Up
When considering what to bring on photo shoot day, don't forget the necessities. These include plenty of water for everyone, sunscreen, an umbrella for shade, and extra makeup for touch-ups. You may even want to consider a hand-held fan or light water mister that will help keep you cool without dousing your look. Finally, don't forget a snack for sustenance. Consider something nutritious and filling that will neatly stand up to the heat, such as these simple, healthy summer snacks.
3. Curb Humidity Hair with Product and Planning
The hot, humid weather wreaks havoc on plenty of people's otherwise tame manes. If you or someone you love is susceptible to summer frizz, make sure you plan ahead for your portrait. This could involve wearing your hair in a braid or a flattering updo, incorporating a headscarf or summer hat, or using a healthy dose of product to keep your hair in place. Click here for more tips on how to achieve frizz-free hair this summer.
4. It's All in the Details, from Head to Toe
Consider this the final note on feeling your best by looking your best. Just remember all those little details you'll be sure to notice if you don't attend to them when picture day arrives. This includes making sure your toes are ready for sandals, flip-flops, or open-toes shoes, and that your hair is prepared for a windy day. Did you remember to wear your favorite jewelry or watch? A head-to-toe check that everything is in place, laying right, and coordinated in the way you like will allow you to forget about what you're wearing and enjoy the shoot.
5. Summer Fun Makes for a Great Session
Summer offers a host of activities that lend themselves to memorable photo sessions. Maybe there's a summer event you attend every year which would make a unique yet personalized backdrop for your portrait. Whether you're intrigued by the idea of photographing at the summer fair (baby animals, anyone?), or there's a beloved outdoor summer spot that reflects who you are, incorporating a favorite summer activity into your photo shoot is a fun and creative way to capture the essential you.
6. A Few Choice Props
Outdoor summer shoots come pre-loaded with beautiful imagery, but a few additions can turn a lovely backdrop into a stunning scene you'll embrace. Vintage step stools in a field look gorgeous, as do blankets, balloons, and even visually striking treats (lollipops, ice cream, etc.). Spend some time picturing your idealized summer scene, and we can work together to find the pieces to make that image come to life.
7. Working Together to Keep it Cool
Sometimes it's hard to head outdoors on a scorching day, but know that we're going to have a fantastic shoot. You can embrace all that the summer has to offer and rest assured that I won't let you overheat. We'll spend lots of time in the shade, dive into the cool A/C when we can, and I will never push your family into staying in the heat longer than they can tolerate. We'll stay cool as we work together to realize your perfect summer moment.
Click here to contact me and get a quote for your family summer portrait session now.