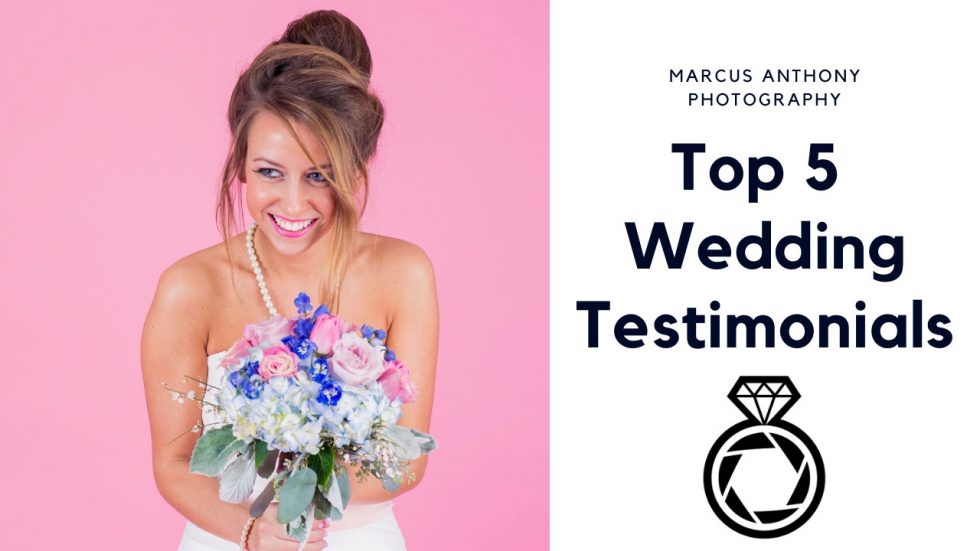 [et_pb_section fb_built="1″ _builder_version="3.22″][et_pb_row _builder_version="3.25″][et_pb_column type="4_4″ _builder_version="3.25″ custom_padding="|||" custom_padding__hover="|||"][et_pb_video src="https://youtu.be/y6my8OaPy0I" _builder_version="3.19.5″][/et_pb_video][/et_pb_column][/et_pb_row][et_pb_row _builder_version="3.25″][et_pb_column type="4_4″ _builder_version="3.25″ custom_padding="|||" custom_padding__hover="|||"][et_pb_text _builder_version="3.27.4″]
In this video I narrate the Top 5 Wedding Testimonials from Marcus Anthony Photography.
Check out http://marcusanthonyphoto.com/weddings for more information.
Devon + Rick say: My wife and I were so lucky to have someone like Marcus shoot our wedding. We both felt as though we were long friends of his and he went above and beyond for us prior to, the night of and after our wedding day to make sure we were happy with his work. His passion for what he does is second to none and it shows in his work and professionalism. Our final pictures were so great. We did have a few minor things we wanted to touch up, not by his error, with a few pictures and he corrected the issue without hesitation. We would highly recommend Marcus for your wedding or special event as he is amazing!!!!!!
Mary-Kate + Jimmy say: If you want absolutely amazing and stunning photos of your wedding day, Marcus Anthony is the photographer to go with! He did an incredible job for our wedding. We have literally hundreds of gorgeous photos to choose from. It is actually going to be a challenge to narrow down ones to frame. He got amazing formal photos, but also brilliant candid photos of all our guests, and me and my husband. He really captured the night and helped us to preserve the wonderful memories from our day. He was extremely professional, you never felt like he was in the way, but he still managed to get great photos. He also had really good ideas for photos which came out great. I honestly can not recommend him enough.
Kendra + Corey say: We think the best way to describe our introduction to Marcus and his craft was a pure state of kismet. We decided to plan and have a surprise wedding in three weeks, and Marcus came in to our lives during this time of loving chaos. He promptly arrived suited with professionalism, inspiration, and an unconditional earnest to understand exactly what we were looking for and needed…and he did all of this with warmth and enthusiasm that instantly made him part of our special day. He captured every moment exactly how it felt, and our guests are still talking about how beautiful and special every shot turned out.
Ana + Shawn say: Marcus did an absolutely amazing job! The photos came out better than we had imagined. He is creative, hardworking and a true artist. He and Katie found a way to be everywhere, all at once, and never intrusive. Some of our guests told us he had even climbed under a buffet table to capture a photo of our first dance that captured the beautiful chandeliers in the Blockade Runner ball room as a background. It came out spectacularly! There are even candid photos, like one of me carrying Ana across the street from the docks back to the hotel, that look amazing… that I want to blow up to poster size. Aside from his ability as a photographer, there is a personal touch that Marcus seems to add that means a lot. He's and Katie are genuinely good people, that were great to have at the wedding. And we've kept in touch since then. Whenever we have kids, we definitely go back to Marcus for family photos! I really can't speak highly enough of them and would wholeheartedly recommend them to anyone.
Leah + Josh say: Marcus and his wife Katie were a pleasure to have shooting the photography at our wedding. We appreciated being able to meet with him in person a couple of times before the big day, and he listened to our ideas and questions, as well as offering suggestions. He never left an email unanswered for more than 18 hours. During the day, they were both outside the main action and yet still involved. We got some great shots at the beach and harbor in the sunset, and had fun doing it as well. During the reception, he offered some cool ideas (spotlight dance) that returned some of our favorite pictures. Expensive, but well worth it. Even better, he had managed to edit our entire set of photographs before we got back from the honeymoon!
[/et_pb_text][/et_pb_column][/et_pb_row][/et_pb_section]