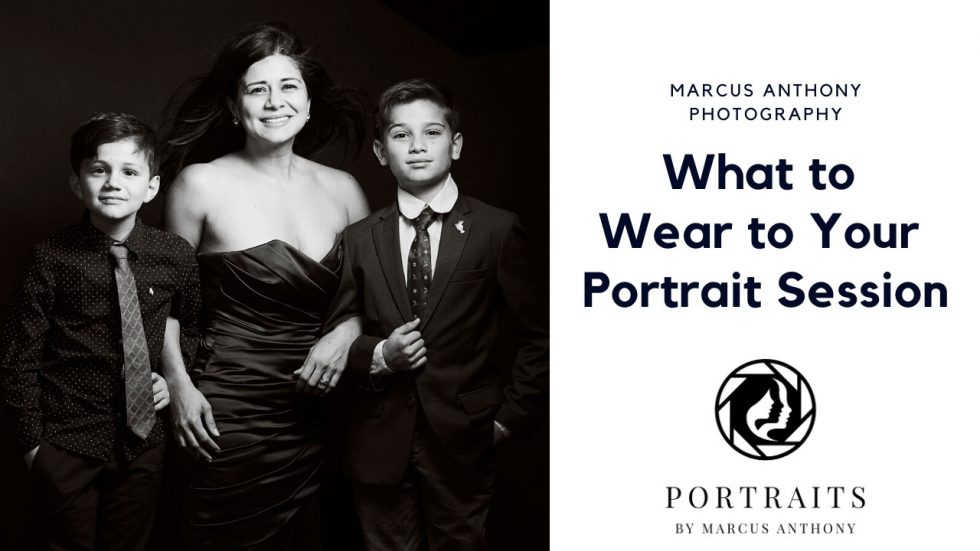 [et_pb_section fb_built="1″ _builder_version="3.22″][et_pb_row _builder_version="3.25″][et_pb_column type="4_4″ _builder_version="3.25″ custom_padding="|||" custom_padding__hover="|||"][et_pb_video src="https://www.youtube.com/watch?v=ie87q6dZSGM&feature=youtu.be" _builder_version="3.19.5″][/et_pb_video][/et_pb_column][/et_pb_row][et_pb_row _builder_version="3.25″][et_pb_column type="4_4″ _builder_version="3.25″ custom_padding="|||" custom_padding__hover="|||"][et_pb_text _builder_version="3.27.4″]
Hey everyone. This is Marcus with Marcus Anthony Photography. In this video, I'm going to tell you exactly what to wear to your portrait session so you feel confident and look your best. So let's get started.
At Marcus Anthony Photography, we photograph against hand painted backdrops. They lend themselves very nicely to simple timeless clothing. I've put together a few examples here that I'll show you in a second but before that, I'm going to go over four simple rules.
Rule number one. Stay away from distracting patterns and logos. Your portraits are meant to showcase the personal connection that you have between your family members. So any sort of distracting clothing is going to take away from that. Stay way from things like this, any sort of graphic Ts with crazy big logos on them, or anything that's way too colorful like plaid. Anything like that is going to be distracting and will take away from the connection that you have with your family.
Rule number two. Coordinate your tones. You don't have to do the matchy matchy thing where everyone's wearing the exact same pair of dockers. But I highly recommend you coordinate your colors. So these are the examples I put together, three clothing examples. First is black. I have a dark tone and a light tone backdrop and so the black clothing looks very, very good against my darker backdrop. So for mom, we have a simple dress. The black and a little bit of white tulle to give it a bit of contrast. For the kids, a simple long sleeve black t-shirt. And for dad, something like what I'm wearing is perfect. A long sleeved Henley.
For the white example, we've got a nice little dress for little Tiffany. We have a long sleeved white blouse for mom. And for dad and son, long sleeve button downs. Obviously this isn't the most exciting wardrobe but again the idea is to put the focus on the connection between you and your loved ones, not give a fashion show. For the last example is a little bit of color. So for this I picked red, white and blue. So three colors. Try to limit it to three. Anything more than that is a little distracting. So for mom we have the red dress. For little Timmy, we have a red shirt and blue jeans would look great with this. For little Suzy, we have a white top and a red skirt. And for dad, a simple red polo. You get the idea. I highly recommend you coordinate your tones.
Rule number three. Coordinate your footwear. Most people in my studio go barefoot because I tend to crop in pretty close on the photos. However, if you insist on wearing shoes make sure everyone's wearing a similar style. So if mom's wearing stilettos, make sure the kids aren't wearing Nike's. If they don't have any sort of dress shoes and you only have stilettos, I would say ditch the shoes all together and just go barefoot. Everyone will be more comfortable and it will just look better.
Rule number four. Coordinate your style. Let me start off by saying this is probably the least important rule. I've seen a mom wear a cocktail dress and the kids wear t-shirts and it actually turned out pretty good. So if you're going for something a little bit more formal and something that will stand the test of time, always air on the side of more traditional. So that means dresses for ladies and suits for men. That look will especially look great against my luxury hand painted backdrops.
And that's a wrap. Thank you so much for watching. And if you have any questions, just let me know. You can email me. Marcus@MarcusAnthonyPhoto.com. You can call me at 910-444-0162. Or you can go to my website for more information. MarcusAnthonyPhoto.com.
I'll see you at the shoot!
[/et_pb_text][/et_pb_column][/et_pb_row][/et_pb_section]