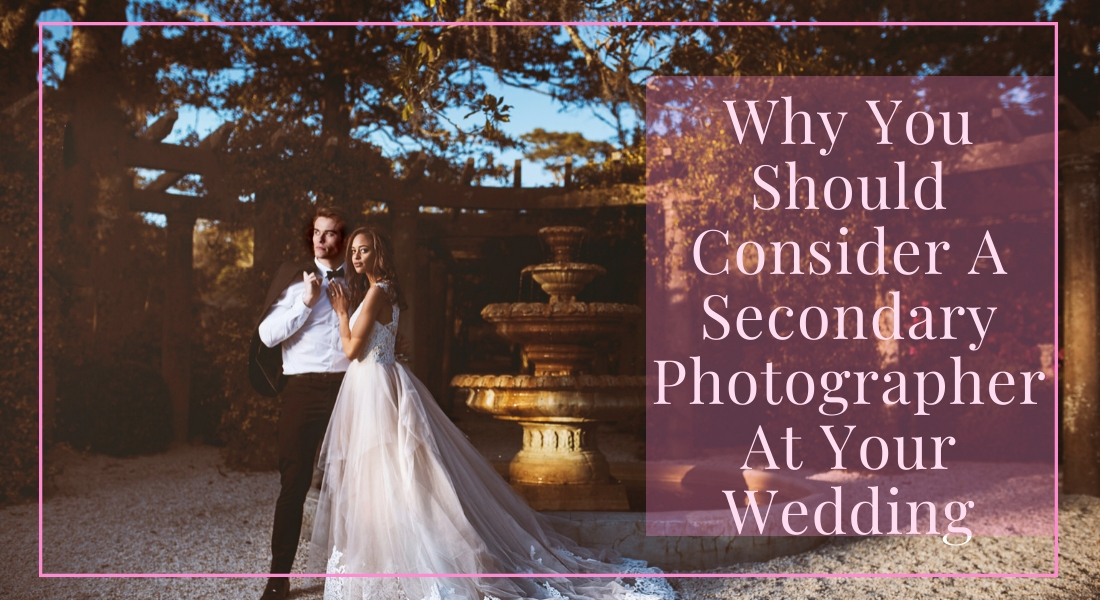 Documenting your wedding day is vital to not only you, but your wedding guests as well.  Hiring a photographer is typically at the top of a wedding-to-do list.  Not only will you get to save these photos for a lifetime, but your guests and family will also get to enjoy looking back on these memories.
With something as important as your wedding photos, you will want to ensure its safety with a back-up plan.  You may also want to get as many photos from different perspectives as possible on your big day.  That is why you should consider a secondary photographer at your wedding.  Here is a helpful list to explain the many benefits of hiring a main photographer and a second shooter:
Coverage Of The Whole Wedding Day
Your main photographer can only be in one place at a time.  While it is normal to want "getting ready" photos of the bride and groom, your photographer can typically only be with half of the group at a time.  If you want candid photos of both sides of the wedding party getting ready, then it is best to hire a secondary photographer to help with the coverage.  This will also come in handy during the ceremony and reception as well.  If one photographer is focused on the bride and groom, then they are missing out on the guests and party, and vice versa.  Two heads are better than one in this case, so that you can get a full scope of photos throughout your entire wedding day.
Increase The Amount Of Candid Photos VS Posed
As mentioned before, a single photographer will be so busy capturing as much as they possibly can, but will inevitably be missing out on something else.  If you were really hoping for photos of both the bride and groom getting ready before the wedding, then you may have to have a single photographer get candid photos of one and more posed photos of the other.  This may also cause you stress, as your wedding day will most likely be on a schedule, and you may not have time for the photographer to be running back and forth to have you pose for photos that they were not able to take candidly.  A secondary photographer will be able to help with the work load, and get the candid photos that the main photographer would have missed.
Two Photographic Perspectives
While your main photographer is capturing the traditional photos that are typical in a wedding package, your secondary photographer can be capturing a secondary perspective of the wedding.  One photographer can capture the bride walking down the aisle while the second shooter can capture the look on the groom's face at the same moment.  One photographer can capture the best man giving a speech while the other photographer captures the reactions from the bride and groom and guests.  One photographer can be busy shooting photos on the dance floor while the other is getting shots of the family and friends sitting down for dinner.  All of these perspectives are so important as they will create a full view of the experience.  Fifty years from now, you will be able to remember more clearly all of the fun that you and your guests had on this special occasion.
In Case Of Emergency
Hiring a secondary photographer will be your greatest insurance plan.  Unfortunately, accidents happen, photographers get injured, or a personal emergency may come up.  It is impossible to guarantee with 100% certainty that your photographer will be able to cover your entire wedding day.  If for some reason, in the middle of your wedding, the main photographer must leave or was not able to attend at all, then your secondary photographer will be able to step in immediately.  You won't have to worry about finding a last minute replacement or asking your uncle to take photos with his phone.
Camera Error
Getting two photographers with two cameras is also a great back-up plan in case something happens to the equipment.  Should a memory card become damaged or lost, or one of the cameras breaks during the wedding day, then you will have a back-up.  You will feel a sense of relief knowing you didn't completely lose all of your wedding photos if something unexpected happens to the camera equipment.
Options In Style
If you would like, you can request that your two wedding photographers shoot with different styles and perspectives.  Do you know a friend that got their wedding photos back and they did not turn out the way they expected?  The last thing we want is for you to be disappointed with the photos your receive.  So it may be in your best interest to get as much range in photographic style as possible.  Hiring two photographers will give you the option to pick and choose which photos you want to hang above your mantle and share with friends and family.  These photos are yours to keep forever, and your style may change over time as well.  You may love certain photos now, and then adore other photos later down the road.  Having diversity in options is always a great way to guarantee satisfaction with the final product.
So don't leave your wedding day to chance.  Get the best photos possible by having complete coverage at your wedding.  Hiring a secondary photographer will put your mind at ease so you can just enjoy the day and have fun with your future-spouse.