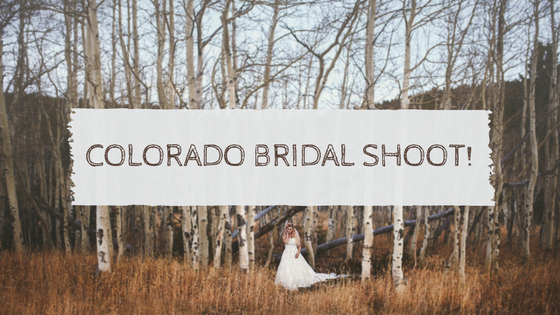 COLORADO PHOTOGRAPHY
It isn't every day you get to do a photoshoot in one of the most stunning landscapes on Earth. The Rocky Mountains are truly one of Earth's great triumphs, and we took total advantage of it by doing a bridal session about 40 minutes outside of Boulder, Colorado.
Katie and I flew out to Denver this October furor birthdays. She's the 16th and I'm the 15th, so we always celebrate together.
We spent the afternoon walking around downtown Denver, and then drove up to Boulder to get some dinner. Our final destination was a quick drive up the hill to a small town called Nederland.
The mountain cabin we were staying in was sitting high and mighty at about 8600 feet, and the air was ridiculously hard to breathe. Even a small jog was too much for my pathetic beach-residing lungs. It was dark when we arrived at our cabin, but when we woke up the next morning, I couldn't believe my eyes!
This was the view from our cabin deck. Epic!
Our birthdays were incredible, and I couldn't have asked for a more relaxing setting to spend them at. Here's a shot of my birthday breakfast!
Couldn't resist putting a camera in there ?
I turned 30. I'm old!
PHOTOS FROM OUR STAY IN COLORADO
During our stay, Katie and I visited tons of scenic sights and went hiking on the Fourth of July Trail. Here's a few shots from our adventures in Colorado!
Here's a waterfall we found on the trail. I was very excited.
Panorama near the end of the hike!
This is the highest paved highway in the country!
THE STYLED SHOOT
For this shoot, we purchased a $99 wedding dress from China on eBay. This thing was so cool, it had flowers sewn into it! And for less than a hundred bucks, it's hard to beat.
I also invited a spectacular makeup artist to assist on the shoot. Her name is Tessa Capaldi, and she's incredible. If you ever find yourself getting married in the Boulder or Denver area, call her first! You can find her online here.
BOULDER, CO WEDDING PHOTOGRAPHY
Enough of the story-telling and on to the photos! Enjoy 🙂
Related Posts