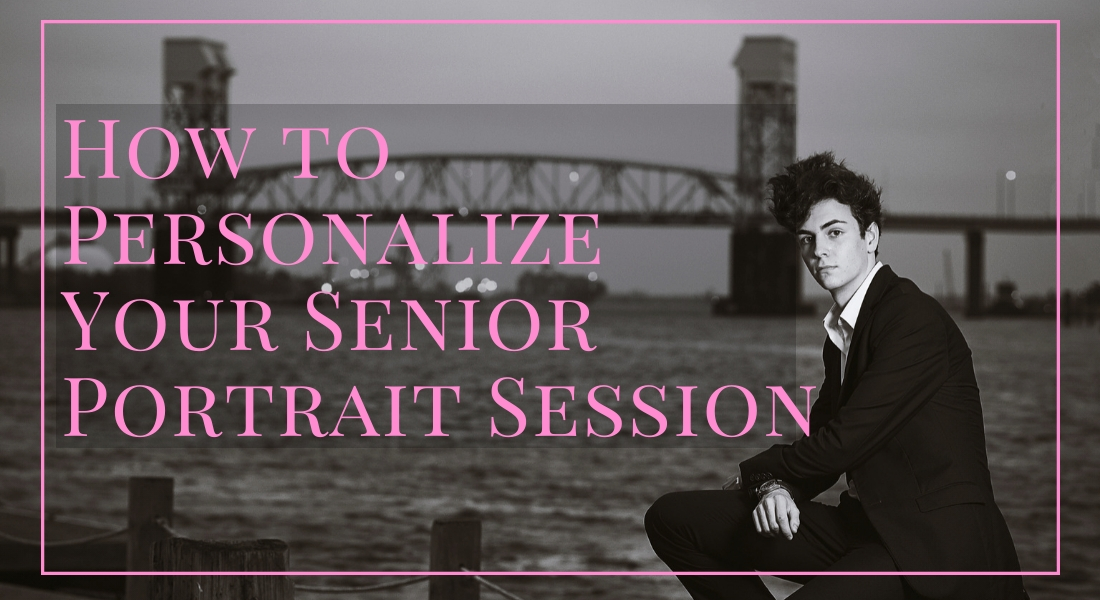 Back in your parents' day, senior portraits were a chore, and the results were boring. Everyone had to make an appointment at a school-designated studio, or show up at a cattle-call somewhere on campus where their classmates filed through the photographer's location set. Someone would drape the girls with velvet, and the guys wore fake tuxes with button-up seams in the back.
(Fun fact: This is pretty much how funeral directors get the clothes onto cadavers. Coincidence? Not really. There's nothing lively about senior photos from the 70s and 80s.)
The goal was uniformity. At most, your parents could choose the color of their background.
Now, seniors get to express their individuality with creative senior portraits. They get to choose their photographers and their favorite settings and include representations of their passions and future dreams to mark this important chapter in their personal saga.
Seniors of every generation have a lot on their minds; applying for college, taking advantage of out-of-town parents to throw keggers, keeping their grades up, and balancing social, academic, and job responsibilities. Planning the perfect senior portrait might feel like yet another major hassle when you're already experiencing decision fatigue. Just remember: it's less about getting something out of the way as it is a gift to your future self.
Relax, and free-wheel through whatever ideas run through your mind as you consider your options. Your senior portrait session is about what's important to you now
Here are a few prompts to kick-start your creative thinking:
Sports
If school sports are your passion, we can take some shots of you in your uniform…without you looking like you're posing for a Little League trading card.
Are you a faithful Panther fan? We can incorporate your favorite collectibles, and you can gear up in your bleacher getup, facepaint and all.
Art
Do you spend a lot of free time wandering local museums or art galleries? Is old-school film photography your thing? With advance notice, we can arrange to photograph you at your favorite art venue, or we can take your easel to your most inspirational location.
Theater
Imagine yourself standing in the glow of the footlights, roses in your arms. You're about to take a bow at the end of your high school years, and Act II is on the horizon. I can't think of a better way to illustrate a theater nerd's love for performing arts.
Music
Surround yourself with sheet music or your favorite instruments. Bring your headphones and your beloved concert shirts. Are you a DJ? Bring your friends; we can set up a tableau with you at your turntables, and your adoring fans on the floor.
Your Favorite Things
Anything's possible with a little advance planning, but you don't have to dress as your favorite character to pay homage to the one book or movie you'd want with you on a deserted island. Just bring something along—the book itself, or that cherished replica lightsaber—and we can find a way to naturally (or, in some cases, hysterically) work it into your portraits. I've photographed students with their favorite cars (owned, rented, or borrowed), poised to launch in their kayaks, or hanging out with a favorite pet.
Your Favorite People
Sometimes it's reassuring to bring your BFF along for your portrait session. He or she sees the side of you nobody else does and often points out the best part of you when you're feeling out of place or down. While your best friend is with you, why not get some shots together?
Your School Spirit
School spirit isn't limited to team sports, and you can honor your time at your high school in any measure of ways. Is there a spot on campus that you want to remember? Perhaps you want to go the subtle route; why not include an outfit change with your school's colors?
If you're more focused on the future, that same school spirit might be wearing a sweatshirt from your future college. One of my students, who went to the same university that her father attended, wore one of his old college shirts. "Two birds with one stone," she said; she paid tribute to her father, as well as their beloved school.
Your Favorite Hangout
Where do you spend your time when you're with your friends? Whether it's a local donut shop, the stable where you ride your horse, or the beach, we can include these important places in your portrait session. Even if your friends can't join you on your session, the setting will honor the memories you built there together.
Bring Your Photographer Aboard
I encourage my clients to bounce ideas off me. I've worked with a lot of students, and together we've jumped quite a few hurdles to pull off the perfect portraits. You might hesitate, thinking that your ideas are weird, or impossible. Try me!
Brainstorm a list of locations, props, and concepts, and send it my way. I can help you decide what's logistically realistic, and we can work from there.
And one more thing: Your parents might have their own idea of how you should look. It's always a good idea to appease them with a few shots or outfit changes inspired by their requests. But, as with the rest of your life from this point onward, you're in charge of your portrait session, and it should reflect your independence and individuality.